I did not want to forget to write this thank-you.......
Jeff and I picked up my car about 2 weeks ago and promptly left for a short vacation in the mountains of NC (to cool off!), so I didn't get a chance to send a thanks for the supreme service I received (and my car) from RENN HAUS....
Read more... Testimonial - Anna Marie Greco
"Like having family in the business . . .
When Guy and Stephanie Covington opened Renn Haus, ownership of my Mini Cooper increased several fold. Not only did I no longer have to drive an hour and a half to Palm Harbor for service, I have found that everyone at Renn Haus (with whom I have been dealing for over a year) treats me as if I were family. Guy always tries to get me parts at the very best price and once took about an hour running me through a few notable features of my vehicle that I knew nothing about. More than once Steve or Pierre has "talked me down" by phone from some functional error. And, most remarkable of all, my mpg have increased 20%."
Edith Cheitman
2004 Mini Cooper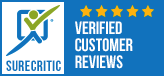 Reviews with the "Verified by SureCritic Logo" come with our assurance that the reviewer is the actual customer.
FOR SALE ...
ONLY 38,720 MILES! CLEAN CARFAX two owner Florida car, all service current, Sport suspension, Sport styling package,...
Read more