Renn Haus' World Class Component & Parts Supplier
Our Quality Suppliers
1
VORSTEINER - Perfection Redefined
Vorsteiner's reputation is based upon building nothing but the absolute highest quality parts for the most discerning clientelle. Their sensational parts are the embodiment of Vorsteiner and its cars.
2
SPEEDRIVEN - High Performance Tuning
SPEEDRIVEN offers unique tuning programs for Mercedes/AMG, PORSCHE, BMW and other performance automobiles that deliver superior quality and value, as well as superior horsepower and torque.
3
ACTIVE AUTOWERKE
Active Autowerke has been known since 1981 as the BMW innovators when it comes to BMW performance. Over the years, this company has stood for innovation, perfection and dependability; all virtues aimed at our ultimate objectives at all times.
4
AFE POWER - advanced FLOW engineering
aFe - advanced FLOW engineering is a manufacturer of high performance air intakes, filters, exhaust systems, intake manifolds, intercoolers, and throttle body spacers for PORSCHE, MERCEDES, BMW, MINI and other import cars.
5
MINI MADNESS
From wild to mild Mini Madness'experience with the new MINI Cooper in racing and everyday street driving allows us to recommend the products right for you and your driving style.
6
LIQUI MOLY – German Motor Oils, Additives, Car Care
LIQUI MOLY is one of the leading producers of engine oils in Germany and is the undisputed market leader when it comes to additives. With 60 percent of the turnover, Germany remains the main marketplace, but international demands are constantly increasing. LIQUI MOLY products are now sold in more than 100 countries.
7
Mobil 1 - World's Leading Synthetic Motor Oil
How Mobil 1 keeps your engine running like new ....

Synthetic motor oils – such as Mobil 1 – contain more highly refined base oils than those used in conventional mineral oils, which can offer you better protection and performance. Synthetic oils provide a variety of benefits, such as excellent high- and low-temperature performance, that can provide excellent engine protection.
8
Interstate Batteries
Along the way, the Interstate brand surpassed Sears to become the #1 automotive replacement battery brand in North America — a title we still hold today, now selling about 15 million batteries a year. Today, the Interstate system continues to grow as the integrity of our business programs proves timeless. We have more than 300 Interstate Batteries distributors who serve more than 200,000 retail outlets where consumers can purchase Interstate batteries.
"Honest, Economical & Reliable Service

Over the past 2 years, I have taken my 1993 Porsche 968 to Renn Haus several times for routine service, parts replacement and a wiring issue. Guy and Stephanie have treated me respectfully as a valued customer and friend each time. The service has been excellent at a reasonable cost and I will continue to take my car to Renn Haus for all its needs."
Jack States
1993 Porsche 968 Cabriolet
"Courteous and Professional

We are in West Florida on vacation and have our 2002 Audi A4 with us. While on a daytrip to Miami, our car began making ugly noises. After a phone discussion with Guy at Renn Haus, we had the car towed back to his shop for repair. Guy was extremely nice and went out of his way to help us. He even arranged for a rental car to be delivered to his shop since we were not expected until well after 5 PM. After a thorough exam and review, the problem was diagnosed and repair completed. Guy and Stephanie were courteous and professional throughout. The shop is spotless. What started out as a harrowing experience ended with smiles. We would recommend Renn Haus absolutely."
Claudia
2002 Audi A4
Incredible staff. Theyre all extremely knowledgeable when it comes to all things European cars. Im not taking my BMW anywhere else but here. Very honest and trustworthy people.
I highly recommend them to everyone.
Alex
BMW
"Like having family in the business . . .
When Guy and Stephanie Covington opened Renn Haus, ownership of my Mini Cooper increased several fold. Not only did I no longer have to drive an hour and a half to Palm Harbor for service, I have found that everyone at Renn Haus (with whom I have been dealing for over a year) treats me as if I were family. Guy always tries to get me parts at the very best price and once took about an hour running me through a few notable features of my vehicle that I knew nothing about. More than once Steve or Pierre has "talked me down" by phone from some functional error. And, most remarkable of all, my mpg have increased 20%."
Edith Cheitman
2004 Mini Cooper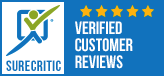 Reviews with the "Verified by SureCritic Logo" come with our assurance that the reviewer is the actual customer.
FOR SALE ...
ONLY 38,720 MILES! CLEAN CARFAX two owner Florida car, all service current, Sport suspension, Sport styling package,...
Read more